So there I was on Christmas morning, wanting to play with my new toy train and the flippin' snow gets in the way !
The new toy is a Brekina G gauge VW railbus for the garden railway. The garden railway currently under several cm of snow. When I spotted this being reviewed in both Garden Rail and VW Camper & Commercial (both times by a
Mr David Brown
), my combined interest in trains and VeeDubs made it an essential purchase for the line. Best of all, a few hints and Santa came up trumps.
Now you are probably thinking that this is just a crazy made up model. Well, you would be wrong. Brekina have taken a few liberties with the prototype - the real things (there were several) were standard gauge whereas the model is narrow gauge and therefore probably not technically possible without replacing the engine with something less wide - but this doesn't matter. After all it's a splitty bus running on rails, it doesn't get any better !
Interestingly, the model includes a long side footstep that extends under the opening doors whereas the prototype does not. They have left the headlights painted over too which is wrong, but I think I can fix this easily enough.
Now all this is fine but apart from screwing the steps in position, this isn't real model making is it ? No, what I need is to do something like this: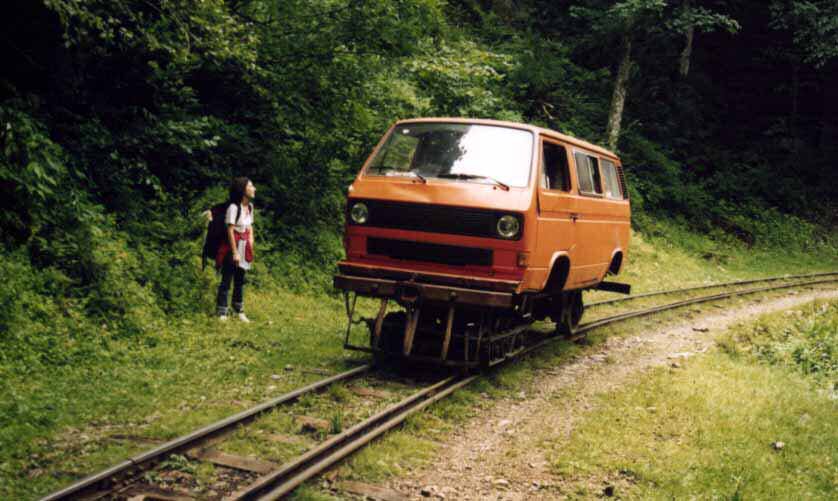 So, if anyone knows where I can get a 7mm scale Type 25 from, the let me know as I think my On30 project suddenly needs more rolling stock...
In the meantime, let's hope the thaw begins soon so I can get out and play !